twissis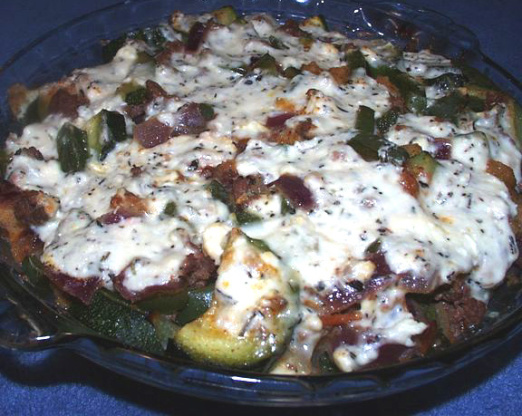 From Gourmet magazine. Posted for Zaar World Tour II

This worked great roasted! The veggies don't mush up, and the flavors combine together beautifully. Mix everything in a casserole dish (except the cheese), cover and bake at 350 degrees for 1 hour. I used balsamic instead of red wine vinegar to add the tiniest bit of sweetness. Instead of the feta, I topped with about 1 c. mozzarella and 1/4 c. parmesan cheese and baked for another 10 min. Delicious!
Preheat oven to 350 degrees.
Heat oil in a heavy, large Dutch oven over medium heat. Add garlic; stir 1 minute.
Add eggplant, green bell peppers, tomatoes, onion, zucchini and basil. Saute for 5 minutes.
Cover and simmer until all vegetables are tender, stirring occasionally, about 25 minutes.
Uncover pot and simmer until juice thickens, stirring occasionally, about 10 minutes.
Mix in vinegar; season to taste with salt and pepper.
Spread in 9-inch pie dish.
Sprinkle with cheese, if desired.
Bake until heated through, about 20 minutes.