Baked " Banana Bread" Oatmeal
karen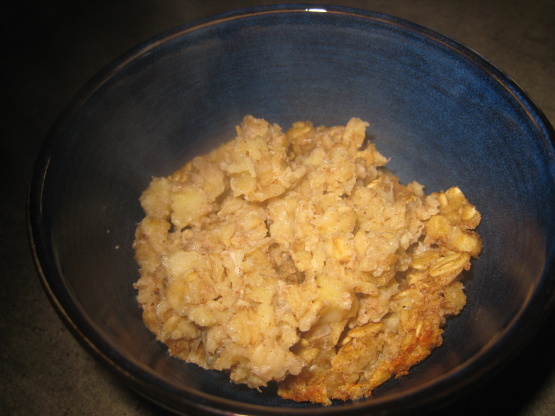 Based on the recipe as stated without using the optional ingredients, I found the oatmeal to be too mushy and more like traditional oatmeal than baked oatmeal (at least compared to the baked oatmeal recipe that I normally use). The flavor was good, though, so I made this a second time but reduced the milk by half and increased the oatmeal to 1 1/2 cups. It was no longer mushy, and I liked it a lot more. I will definitely make this again with the changes. This was a great way to use up frozen bananas and also tasted great with chocolate chips.
Preheat oven to 350°F.
In large bowl, combine oats, sugar, cinnamon, nutmeg and salt.
In medium bowl, whisk together the milk, egg, and vanilla. Stir in the mashed banana.
Add the milk mixture to the oat mixture and stir until combined.
Stir in the chopped pecans, golden raisins and/or pineapple.
Pour into 4-6 small souffle or brulee dishes or one larger baking dish (such as an 8x8-inch dish). (You may want to lightly spray baking dish with cooking spray.).
Bake 20-30 minutes (small baking dishes) or 30-40 minutes (large baking dish), or until slightly firm to touch. (Baking time will vary depending on the diameter of your baking dishes.).
Sprinkle with sugar (optional: use torch to create a brulee topping). Garnish with toasted pecans and sliced bananas.