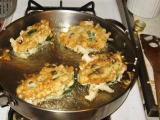 This is the essential game-bird hunter's recipe. If you've never had quail, they are very mild white meat, all breast, really. In any case, this is a tasty recipe that easily deals with a good brace of birds. You could use this recipe for 2 or 3 (thawed) Cornish Game hens if you increase the baking time to 1 hour and 15 minutes.
Directions
Pre-heat the oven to 325-degrees F.
If the quail have been shot in the wild, inspect them all for lead shot, removing any shot with tweezers or the point of a paring knife.
Lightly rub all the quail, inside and out with the seasoned salt.
In a large skillet, over medium heat, melt the butter and saute the mushrooms, bread crumbs, and table salt until the mushrooms tenderize a bit. Stuff the quail with this mixture.
Using the same skillet, make a roux by pouring in the olive oil and browning the flour in it. Then, add the chicken stock, scallions, red pepper, and parsley to the roux and saute the mix for about 5 minutes, until the onions are tender.
Next, spray a baking pan or large casserole dish with cooking spray and place the stuffed quail in it. Pour the sauce over the quail.
Baked, uncovered, at 325-degrees F. for 45 minutes, basting 2 or 3 times during the baking process.
Serve two quail to a person and garnish each plate with two orange slices. Serve cooked white rice as a side dish.
Most Helpful
I have never cooked quail and this recipe was quite simple and got rave reviews. I had only 4 quail but I kept the ingredients the same as if I were cooking 8. I put the excess stuffing on and around the quail. I poured the roux stock mixture over the whole thing and cooked it per directions. I did not have to baste the quail because there was stock/stuffing mixture around it. The quail was tender, perfectly salty with an outstanding gravy....perfect for the side of rice.
I used this receipe as a special dinner for my husband's birthday and it turned out wonderful. The quails were all shot during hunting season and they required less time in the oven due to being smaller. I live in Malta and the quails caught here are smaller then those in America. Do moisten them whiled being baked as I forgot and I had small parts that became dry. I did not use breadcrumbs as I didn't have and instead I used one onion and 2 garlic cloves...really good! One last note, it'll be better if one adds a little bit of salt with the filling.
I added Rosemary to the birds while baking. Turned out moist and tasty. I did not have scallions, so omitted those. Used home made chicken stock. My birds were skinned. Also, I covered them with foil the first 45 minutes of cooking and finished them off uncovered. Used a convection oven. The stuffing mix was excellent also. Love mushrooms. Would definitely use this recipe again!