Baked Pumpkin Rice Pudding
flower7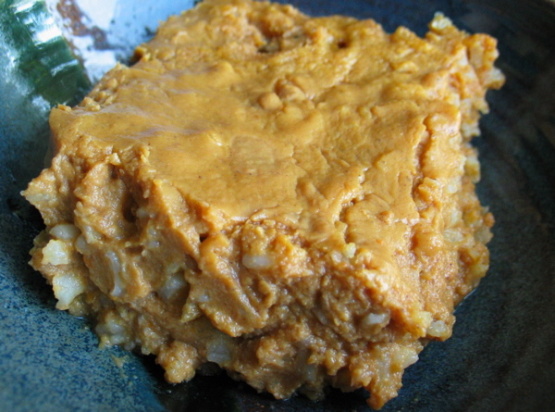 Simple and delicious comfort food. This came from a Kraft cookbook, Best Ever Holiday Recipe Collection. Beautiful cookbook and full of great recipes, lots of popular name brand recipes. This appears to be a recipe full of possibilities, as far as options go. Soy milk instead of regular milk, brown rice instead of white, Splenda instead of sugar, are some of the changes I am considering. I think adding some raisins would be good, too. I think this tastes best, chilled. My son is not a vegetable eater. This is one way to get a vegetable into him, along with some vitamin A.

What a great recipe! I substituted soy milk for regular milk and honey for the sugar (about 1/4 C plus a tablespoon) and it was just the right amount of sweet. I didn't have minute brown rice, so I boiled brown rice before adding it to the mixture and the texture came out perfectly. Yum!
Combine milk, pumpkin, rice, sugar, cinnamon, ginger, salt and cloves to a boil in a large saucepan.
Stir mixture constantly.
Reduce heat to low; simmer 5 minutes, stirring occasionally.
Remove pan from heat.
Beat eggs and vanilla in a large bowl. Slowly stir in hot pumpkin mixture, blending well after each addition. (This lowers the temperature of the mixture, you don't want to add it at once, because you might end up with scrambled eggs. Not very appetizing! Or just whisk some of the hot mixture into the eggs. Then pour all into the hot mixture.)
Pour into greased 2 quart casserole.
Bake at 375 F for 45 to 50 minutes or until pudding is set. Cool slightly.
Serve warm or refrigerate until ready to serve.
Garnish as desired. Dollop of whipped cream, dash of cinnamon, maybe.
Put leftovers in the refrigerator.