Baked Potatoes With Tuna and Cheese
Diana 2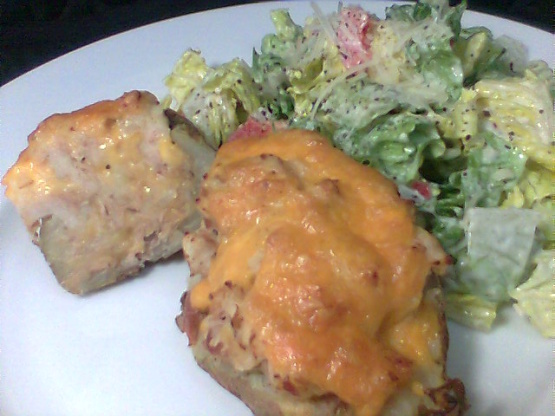 I'm not a tuna salad lover so I wasn't sure about this recipe when I first ran across it but since there's no mayo, it's not anything like tuna salad -- at least not to me. Cooking and prep time does NOT include the time for baking the potatoes since the time varies greatly depending on whether you use the oven, microwave or crock pot for baking the potatoes initially.

Made these last night for dinner and wow were they good! I only had small potatoes so there were three to four on each plate, they looked cute. Used green onions for some color in the filling and sprinkled some on top of the cheese before baking. I also added a dash of garlic powder. As we were munching on them I realized I had forgotten to add the mayo! Guess I'll just have to make them again. This is an easy dish to make ahead. Thanks.
Bake potatoes and then cut each in half lengthwise.
Scoop out the inside of the potatoes keeping the skins in tact.
In a separate bowl, mash the potato insides with milk and butter. Feel free to adjust the milk and butter to your liking.
Add tuna, salt, onions and cheese to the potato mixture and mix well.
Pile into the potato skins and add extra cheese on top if you'd like.
Bake in a 400 degree oven for about 15 minutes or until warmed through.