Baked Potatoes With Chive Sauce
Derf2440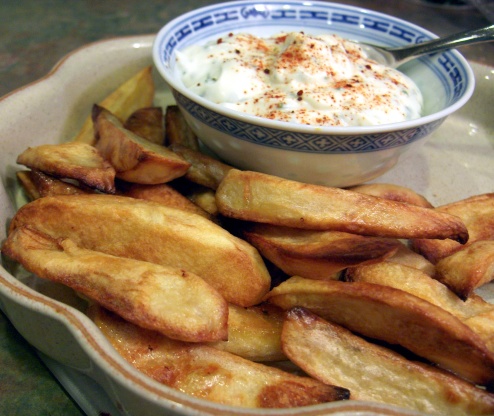 The low-fat sauce also goes well with whole baked potatoes.

Very nice, a nice crunch and a nice golden colour. we loved the chive sauce, I had no sour cream but i had some light chive cream cheese I heated and added to the other ingredients. It went very well with the potato chips, but there is a lot left over, so I will use it with some fish for tomorrow night supper. I would make them again, thanks for posting. Came back to say that I just did 2 potatoes for the two of us and made just half of the chive sauce, also to say that the chive sauce sure went well with the fish tonight, very nice!!
Preheat oven to 400 degrees.
Slice potatoes lengthwise into thin spears (8 to 10 per potato).
Place in medium bowl and toss with oil to coat well.
Arrange in single layer on 2 large nonstick baking sheets.
Bake for 15 minutes.
Turn them over and bake 10 minutes longer or until golden brown and slightly crisp.
In small bowl, combine yogurt, mayonnaise, sour cream and chives.
Let stand 10 minutes before serving over baked potatoes.
Dust with paprika.