twissis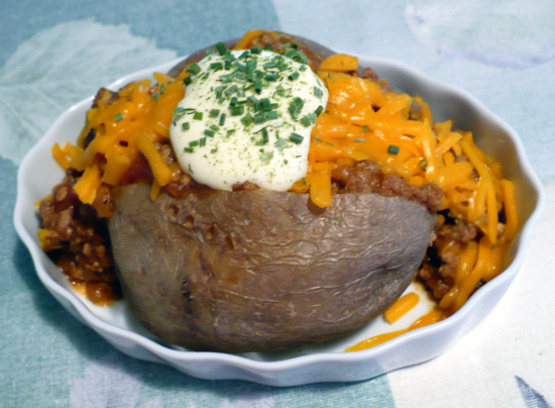 Baked potatoes are not my favorite. I like them with lots of stuff on them. Otherwise, forget it. But this is simple enough, and it's good.

Made for *My 3 Chefs 2008* using a med-heat salsa, I easily reduced this tasty & filling quick-fix to a single serving for my dinner as DH is gone on a fishing trip. I added a generous dollop of sour cream + some chives on top & found my palate welcomed just a bit of the sour cream w/ea bite. I esp like versatile recipes like this & see a pitcher of margaritas, guacamole, a potato bar w/all the fixings on the side + a flan or sopiapillas for dessert making for a great patio party fiesta! Thx for sharing this recipe w/us.
In medium skillet over medium-high heat, cook beef and chili powder until beef is browned, stirring to separate meat. Pour off fat.
Add salsa. Reduce heat to low and heat through. Serve over potatoes. Top with cheese.