Marlene.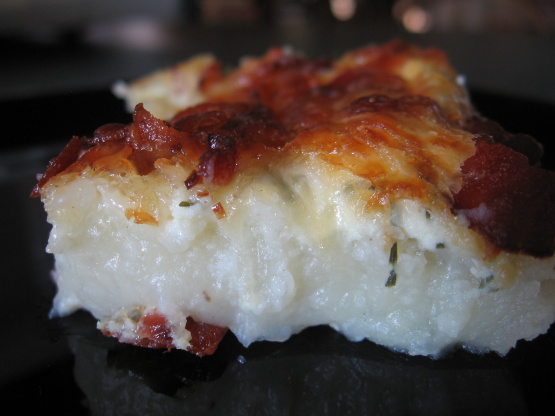 This can be either a side dish or an appetizer. This was originally from a diabetic cook book. We cut the pan into 9 as a side dish but you can easily make them smaller for appetizers.
This is the BEST potato dish I've eaten in a long time! They are slightly sweet tasting to me , extremely creamy , and oh my , I'm so glad I didn't substitute on the cheese! Swiss is perfect for these! The only thing I did different was add a bit more bacon , we are bacon pigs here LOL no pun really intended!! LOL This is a quick dish to put together , I baked mine for about 40 minutes , the inside hadn't set up yet after 30. I still can't quite get a clean square , but I'll tell you the truth , I haven't let them cool at all. I've eaten half the pan already !! Excellent recipe , thanks SO much for posting! This will be a favorite for sure!!
Preheat oven to 350º F.
Mix mashed potatoes, flour, salt and pepper. Spoon into a greased 9 X 9 baking dish.
Mix sour cream, chives, and egg. Spread over potato mixture.
Sprinkle with cheese and bacon.
Bake at 350º for 25-30 minutes or until set.
Cut into squares and serve.