lazyme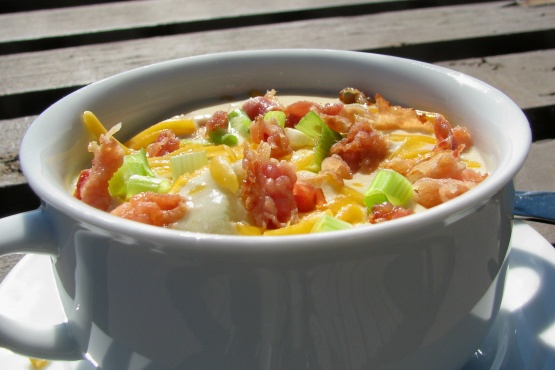 Unusual recipe here as the ingredients go in hot, and the slow cooker keeps this warm. This is great for singles, or a small family as this will already be cooked on the stove, and kept warm in the slow cooker.
Cut potatoes in half, and scoop out pulp, and put in a small bowl.
Melt butter in a large kettle, add flour, and gradually stir in the milk.
Continue to stir until smooth, thickened and bubbly.
Stir in potato pulp, salt, pepper, 3 of the green onions, 8 bacon slices, and 1 1/2 cups of the shredded cheese. Cook until heated.
Stir in the sour cream.
Now you can transfer this to the slow cooker set on LOW to keep warm.
Top with the remaining onions, bacon, and cheese.
Ready to take to a potluck, or straight from the cooker, to enjoy on a cool day.