lazyme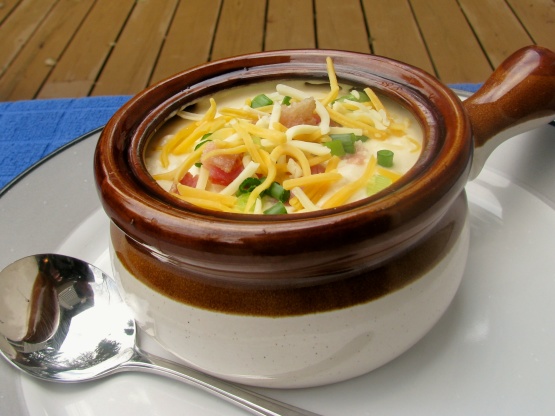 Cold weather is on the way and it's almost time for potato harvest. After trying this soup recipe, you will always bake extra potatoes to use in this recipe.

This is very good. I was a bit elastic with the amounts and added too much cream, which made it too rich, so be careful and taste as you go. I left the skin on the potatoes and cut them into approx 1/3" dice, which worked well (I had been worried the skins would float off, but they didn't). Might add some sweetcorn next time.
Chop cooked bacon& set aside.
Cook onions in bacon drippings over medium high heat until transparent.
Add flour, stirring to prevent lumps.
Cook for 3 to 5 minutes until mixture begins to turn golden.
Add broth gradually, whisking constantly until thickened.
Reduce heat to simmer.
Add potatoes, cream, bacon, parsley, garlic, basil, Tabasco sauce, and black pepper.
Simmer ten minutes on low heat.
Serve in bowls.
Top with cheese and green onion.