twissis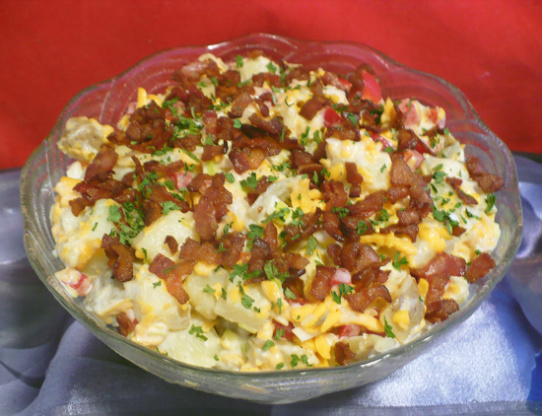 A divine potato salad, that reminds me of the old "German potato salad" served warm. The use of the all the ingredients is a classic, and we totally loved this. I used regular Ranch dressing, as this is what we had, but followed the recipe to a tee. This is easily halved, and gets completely eaten, (wish I made more!) I threw a couple of red pepper flakes and fresh chives on the top, and this was great! Thank you, Recipenut! March 2009.
Coat potatoes with vegetable cooking spray; pierce several times with a fork.
Bake at 400 for 45-minutes or until tender.
Cool and cut into 1-inch cubes.
Combine 1-1/2 cups cheese, dressing and next 3 ingredients in a large bowl; add potatoes, tossing gently.
Sprinkle with bacon and remaining 1/2 cup cheese.