Calee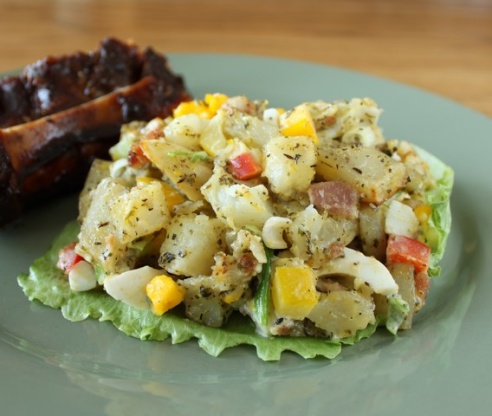 A unique potato salad! Potatoes are baked with oil and Italian salad dressing mix instead of boiled. I usually omit the tomato because I find it gets mealy and doesn't hold up. From "Taste of Home"

yooper, this may very well be the best potato salad I've EVER tasted! The potatoes smelled so good while roasting in the oven I wasn't sure they would make it all the way into a salad, but I sure am glad they did! I left the tomatoes out because I was also serving your Baked Cherry Tomatoes with Parmesan Cheese Topping recipe #30505. Otherwise I prepared the recipe exactly as directed for one fantastic dish! Thank you so very much! We really enjoyed our meal tonight thanks to you! Next time we have company, this one is coming to the table and I don't care what else is being served! :)
In a large bowl, toss the postatoes with oil and dressing mixes.
Place into 2 ungreased 13x9x2 inch baking pans.
Bake, uncovered at 400 for 45 minutes or until tender.
Cool.
Transfer to a large bowl, add peppers, onions, tomatoes, eggs and bacon.
Toss gently.
Combine remaining ingredients in a small bowl.
Mix well.
Pour over salad and mix gently.
Cover and refrigerate for at least 1 hour.