Baked Pork Chops With Roasted Potatoes, Parsnips and Carrots

Really easy, one pan meal that takes minutes to put together and has a wonderful, light flavour. Includes vegetables and potatoes.
Directions
Preheat the oven to 425 degrees F.
Cut the potatoes in half, (leave peel on) Peel and slice the parsnips and carrots lengthwise.
Place the parsnips, carrots, onion, potatoes, and all the garlic cloves in a tray and coat and toss generously with extra virgin olive oil.
(I use my lasagna pan) Add some he fresh thyme (including sprigs), salt and pepper, toss again.
Then place in oven for 15 minutes.
While the vegetables are in the oven, sprinkle some thyme, lemon zest, salt and pepper onto the chops.
Then place them in the tray on top of vegetables and add the apples.
Sprinkle a little extra virgin olive oil, and the juice of half the lemon on top of chops.
Return to oven.
Cook for around 45 minutes until the meat is tender and the vegetables are golden.
Tip: I like to serve a piece of the quartered apple per plate, and I also take the peel off the cooked garlic and serve a couple cloves per plate.
Most Helpful
There are only two of us so I used two very nice thick pork chops, but didn't halve anything else. As a matter of fact, I added a sweet potato to the veggies. I also used a granny smith apple since that's what I had on hand. The smell while this was baking was awesome and the veggies were all wonderful. But I think that next time I'll use some apple juice instead lemon although the lemon zest was nice the juice as just too much for me (oh, I did halve that)
I upped the temp to 475 to prebake the veggies(I used potatoes,carrots and onions tossed in olive oil,california pepper blend,garlic powder and bit of sea salt)for about 17 minutes. I also seared the pork chops in a bit of olive oil. I reduced the oven temp back to 425,then baked everything for only 30 minutes. I used 1 1/4" thick boneless chops. They were perfect.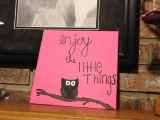 I made this last night and it was incredible! I cooked the whole meal in a deep cast iron pan. I even planned to take a photo, but the minute it came out of the oven it was plated, served and eaten! Next time there will be a picture. I used leeks instead of onions and splashed a little bit of red wine instead of lemon juice. The entire meal was incredibly tasty and there were no leftovers. The carrots, parsnips, garlic, and leeks at the bottom of the pan became slightly candied from the olive oil and red wine baking. Try this meal this winter and you will not be dissappointed.