Baked Pork Chops With Onions and Chili Sauce
Prep 10 mins
Cook 40 mins

This is a quick pork recipe that I throw together fairly regularly because it's easy, requires few ingredients and is a big hit with the kids.
Directions
Preheat oven to 375.
Pound the chops thin with a meat tenderizer.
Heat the oil in a large skillet over medium high heat and brown the chops lightly on each side.
Move the chops to a shallow baking dish. Scatter the sliced onions over the chops, sprinkle with brown sugar and pour the chili sauce over all.
Bake in preheated oven for 40 minutes (or until done, depending on the thickness of your chops). I usually flip them midway through so that they cook evenly in the sauce on both sides.
Smother chops with onions and sauce and serve.
Most Helpful
Easy week night meal. The flavour is very nice. I did add the onions to the skillet after removing the pork, just until they took on a little colour. Don't skimp on the onions, they are so good. I will be making this again. This was made for ZWT 2009. Thanks for sharing your recipe.

I've been wanting to make this for quite some time, so today I decided to bite the bullet. I had 2 thick pork chops, so that was what I used. I baked them for an hour at 375. I gave 4 stars instead of 5, because they didn't turn out quite as tender as I had hoped, but I blame that on today's pork is just to lean. The sauce was VERY good & a 5 star winner!!! Will most definitely try this again, but with a couple end chops or pork tenderloin. THANKS for sharing!!!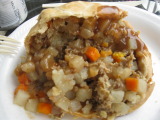 We enjoyed these very much and will definitely make these again. Quick to throw together for an easy weeknight meal! Made for Zaar Chef Alpahbet Soup.