Baked Pork Chops and Apples
gerry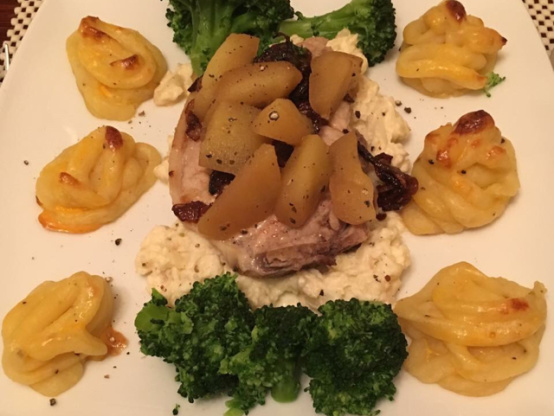 I found this in a pamphlet from the orchard (about Maryland apple orchards) a few years ago when we were picking apples. It is one of the tastiest things I have ever made!

Just made this for the first time. Took the advise of others and seasoned chops with garlic salt, pepper and dried rosemary. I used thick boneless pork chops and cooked for the 1 1/2 hours and it was awesome!!! Best pork chops I have ever had and husband loved them too! Served them with cheddar au gratin potatoes and the meal was a hit!
Peel, core, and slice the apples.
Preheat the oven to 350 degrees.
Melt the butter in a skillet.
Brown the pork chops on both sides in the butter.
Grease (or spray) a large baking dish.
Put the apple slices in the bottom of the dish.
Mix the brown sugar and cinnamon.
Sprinkle the cinnamon and sugar over the apples.
Place the pork chops on top of the apples.
Cover with foil and bake for 1 and 1/2 hours.