Baked Pork Chops and Apples
ImPat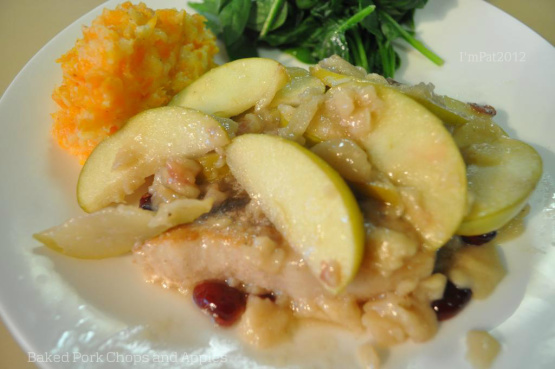 Pork chops and apples are great together and so was this pork chop bake. Served buttered brown rice, broccoli, rolls and enjoyed! Made for RSC #10.

I'm being a bit chintzy with my 5 star rating lately but this dish is totally deserving! I made them as directed but cooked them for a little less time. I thought the sauce was marvelous! Although I cut the chops back to just 2 portions I made the full amount of sauce so there was plenty for the mashed potatoes as well. Yummy recipe - Thanks!
Using salt and sage, season pork chops evenly on both sides. In a large skillet over a medium flame, heat the vegetable oil and brown pork chops on both sides. Transfer chops to a shallow baking dish and save pan drippings.
Peel, core, and slice apples layering them over pork chops. Drizzle the maple syrup over the apples slices.
Sprinkle flour over the pan drippings that were saved and cook until brown, stirring occasionally. Add chicken broth and stir constantly until mixture is smooth. Bring to a boil, stir in vinegar, 1/2 teaspoon salt, and raisins. Pour mixture over the pork chops and apples, cover pan with aluminum foil, and bake at 350 degrees for 50 to 60 minutes.