lets.eat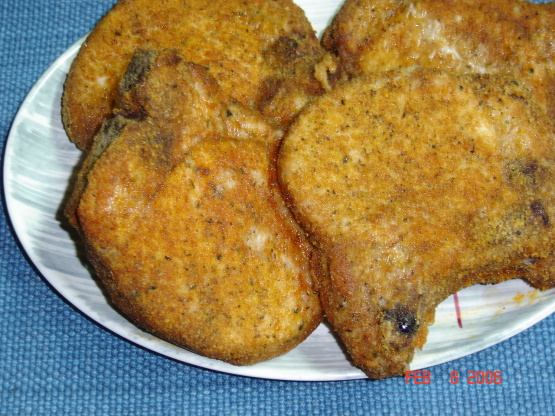 Nicely flavored moist chops. If you use a thinner chop, make sure you don't bake for the full length of time; check at 25 minutes. Refrigeration required prior to baking.

My Husband and I really enjoyed this recipe. I made it as stated and the pork chops turned out moist and crunchy and delicious ! It was simple to put together. I will be making it many more times. Thank you for the recipe !
Place pork chops and buttermilk in a zipper storage bag.
Refrigerate for at least one hour, turning bag occasionally.
Line a baking sheet with non-stick foil, or spray with no-stick cooking spray.
In another zipper storage bag, or mixing bowl combine unseasoned breadcrumbs, basil, paprika, lemon pepper, and garlic salt.
Remove pork chops from the buttermilk.
Dip each pork chop in the crumb mixture and place on prepared baking sheet.
Spray pork chops with cooking spray.
Bake at 425 degrees Fahrenheit for 40 to 45 minutes or until pork chops are no longer pink, and internal temperature reaches 160 degrees Fahrenheit.