vrvrvr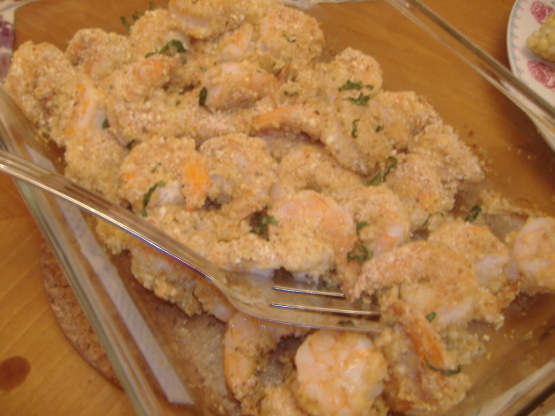 My girlfriend laughs at me but I can't stand the smell of fried foods. So this is a way I can fix my shrimp and not have the smell from the deep frier.

Top Review by vrvrvr
Excellent!! Made this for our 4th of July holiday meal...I used more shrimp (about 1/2 lb. more - to feed 4) so I upped the breadcrumb/Parmesan cheese mixture. I tossed a little salt and pepper into the breadcrumb mixture. When this was ready, I decided it needed a little "visual oomph" so I drizzled some melted butter over the shrimp along with minced fresh basil, and put it under the broiler for a minute. Everyone at the table raved. Great recipe, and I will make it again!
Preheat oven to 350 degrees.
In a small bowl, whisk together the egg and half-and-half.
In a separate small bowl, combine the bread crumbs, cheese and pepper.
Dip each shrimp in egg mixture and then coat with bread crumb mixture.
Place on a foil-lined baking sheet.
Discard leftover egg mixture and bread crumb mixture.
Bake shrimp for 7 to 9 minutes or until shrimp are pink and no longer translucent.