Derf2440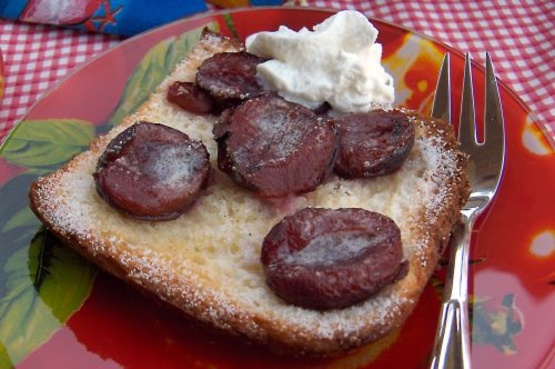 This comes from the Guardian Weekend. I love brioche and I love plums, so what better than to combine them. If you want to make your own brioche there are plenty of recipes here on zaar, if you want it to be less 'hassle' buy it from the supermarket.

Surprize!! this was a great patio breakfast! The brioche was nice and crisp and fluffy at the same time and the plums were a delicious treat!! We hunted for fresh plums but it's just not the right time of the year around here, had to use canned whole plums which work really well. I rinsed the syrup off them with cold water, removed the stones and used as if fresh. Instead of the sugar I used Splenda to sprinkle over them, they were perfect after exactly 12 minutes. We enjoyed them very much and will again often, thanks for sharing a delightful change!!
Preheat your oven, 200C/400F/Gas Mark 6.
Butter both side of each slice of brioche and place them on a baking tray.
Place the plums, skin side down, on the brioche.
Place a tiny drop of butter on each plum and dust with sugar.
Bake until brioche is slightly toasted, 10-12 minutes.
Serve warm or hot, to make it extra special serve with a little pouring cream.