Leggy Peggy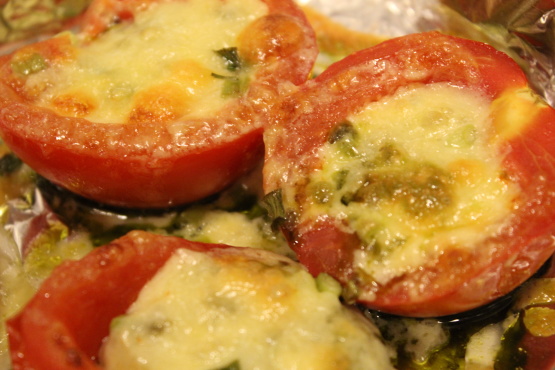 Desperate to find yet another way to use all the tomatoes from 4 plants, I found this in The Big Book of Casseroles. I used prepared pesto, but if you make your own, it is that much better. Had SO many, I shared with the neighbors, and even the young ones liked it. I used about 20 plum tomatoes and increased the remaining ingredients to match.

Wow, Wow and Wow is all I can say about this one.. You should have heard all the oh my this is so good and the Mum you have not made anything this great in ages.. I made extra tomatoes and filing as there was eight of us and we are a little piggy sometimes. Every single person that tried this thought it was outstanding and would have given more than five stars if it was allowed. I like another reviewer put the seeds and some of the pulp back in with the pesto.. I also used gruyere cheese as we are in Switzerland and you can not get monterey jack cheese here and we love gruyere.. Nurse Janey this was soooooo gooooooood and one that I will be making again many times as I have been requested by the family.. Totally gorgeous, really easy to prepare and absolutely fabulous on the flavour. A huge hit and a real winner as far as my family is concerned..
Drain tomatoes, cut side down on paper towels for 10 minutes.
Place cut sides up in 8x8 baking dish, coated with cooking spray.
Season with salt and pepper.
In a small bowl, combine pesto, cheese, onions, and parsley.
Spread each tomato half equally with mixture.
Bake at 350 degrees, uncovered until tomatoes are warmed through and cheese is melted, 8-10 minutes.
Do not overcook, as tomatoes will get mushy.
Leftovers reheat nicely.