gemini08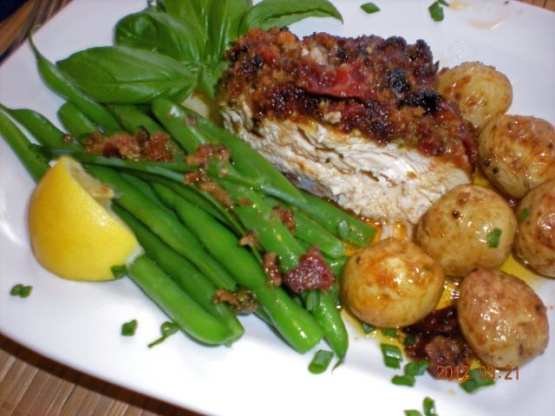 Delicious hot from the oven, this flavor-packed chicken is also wonderful cold. Made ahead and refrigerated for up to three days, this dish is perfect for a picnic.

This chicken was delicious! I added some baby new potatoes and lemon quarters to the baking dish; the lemons with the pan drippings made a lovely sauce. The breadcrumb crust was very tasty and kept the chicken moist. I served green beens with it and topped them with some of the sundried tomato crumbs. This is a great weeknight dinner, easy, quick and delish! Tagged, made and reviewed for PAC spring 2012.
Preheat the oven to 375°F Coat a 13" x 9" baking pan with cooking spray.
In a shallow bowl, combine the bread crumbs, tomatoes, and pepper. Spread the pesto on the top side of the chicken breasts, then dip in the bread-crumb mixture, pressing to coat evenly. Arrange the chicken, breast side up, in the prepared pan. Drizzle with the reserved tomato oil.
Bake for 40 minutes, or until a thermometer inserted in the thickest portion registers 170°F and the juices run clear.