Baked Penne With Ground Beef and Tomato Sauce
FrenchBunny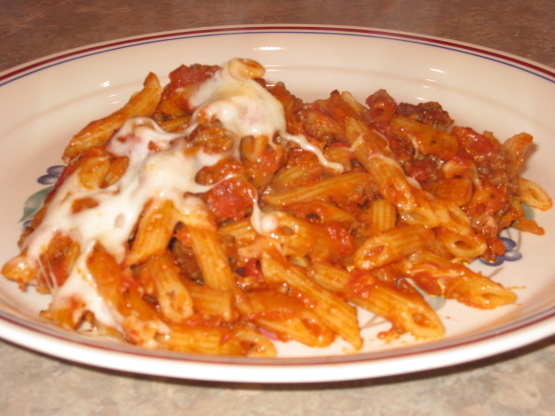 Of course you can use your favorite bottled pasta sauce of your choice to make this recipe, but it is really the sauce that makes this (do not omit the green bell pepper, I also add in a jalapeno pepper, seeded and finely chopped but that is optional) To save some time and to allow the flavors to blend I strongly suggest to prepare the sauce 1-2 days in advance and refrigerate, this sauce freezes well for up to 3 months. Do not over cook the pasta as it will cook even more in the oven...you will *LOVE* this!

I made it tonight. I would use more mozzarella next time just because we love it! Instead of Parmesan I used Asiago. I cheated and used a prepared Marinara sauce that I favor. Terrific dish!
For the sauce; heat oil in a large pot over medium high heat; add in onion, bell pepper, oregano, basil and chili flakes (if using) sauté for about 5 minutes (adding in the garlic the last 2 minutes of cooking).
Add in the tomato paste and stir for about 1 minute.
Add in all remaining ingredients; bring to a boil and simmer (UNCOVERED) on low heat for about 1-1/2 hours.
Season with salt and pepper then remove the bay leaf.
At this point you can cool then refrigerate for up to 2 days.
Set oven to 350 degrees.
Grease a medium casserole dish (or a 13 x 9-inch baking dish).
In a large skillet cook the ground beef until well browned, breaking up with a spoon until crumbled; drain fat.
To the skillet add in about 5 cups prepared tomato sauce (more is okay, or just go ahead and use the whole amount of sauce if desired more sauce will never hurt lol!) cook for about 15-20 minutes on medium-low heat.
Remove from heat and add in 1-1/2 cups mozzarella cheese; stir with wooden spoon to combine.
Add in the cooked penne pasta; toss to combine with sauce and cheese.
Transfer to baking dish.
Bake for about 20 minutes.
Remove from oven and sprinkle with Parmesan cheese then about 1/2 cup (or more) mozzarella cheese, return to oven and cook 5-8 minutes more or until the cheese is melted.
Delicious!