Baked Penne Bolognese Casserole
Prep 20 mins
Cook 25 mins

This recipe is from meals.com. It is extremely affordable, quick and tasty. I find you really need the wine for the flavour. Great for leftovers or to freeze.
Directions
PREHEAT oven to 350°F.
COMBINE beef, onion and garlic in large saucepan; cook over medium-high heat, stirring occasionally, for 5 to 6 minutes or until beef is no longer pink. Drain. Stir in tomato paste, water, milk, wine, bouillon and Italian herb seasoning; cook, stirring occasionally, for 10 to 15 minutes or until flavors are blended.
LAYER ingredients as follows in 13 x 9-inch baking dish: half of pasta, half of sauce and half of cheese. Repeat layers; cover.
BAKE for 20 to 25 minutes or until heated through.
Most Helpful
Very good , I used ground turkey and kittencals Italian seasoning recipe on this site
Also I used red cooking wine i didn't have dry.
For good flavor i used better than bullion beef bullion not that cheap powder stuff.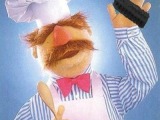 I made this last night for dinner and did not change a thing. (except I had more like a pound of ground beef) It was very good, and had great flavor. Even I ate two helpings! Thanks!

I made this recipe for dinner last night. Didn't change a thing. I used pinot noir wine. The flavor was really good. It only needs to bake 20 mins. DH said he would love to have it again. This would be a great company meal, served with french bread and cesar salad. Thanks for posting this recipe. I did substitute ground turkey for the beef.