Baked Pecan Sweet Potatoes
lazyme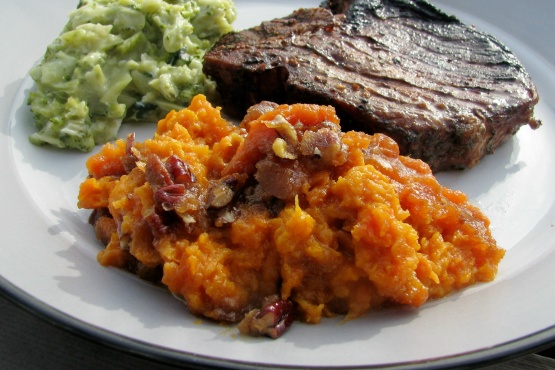 Found this recipe is a local magazine. Haven't tried it yet but will do so soon. Sounds great.
Preheat oven to 350 degrees. Prick each potato several times over the skin with a fork. Place the potatoes in a small baking pan, and bake until the potatoes are tender, about 1 to 1 1/2 hours. Remove potatoes from the oven; set aside until cool enough to handle.
While the potatoes are sill warm, remove their skins. Transfer the potato flesh to the bowl of a food processor. Add the cream, 4 tablespoons of butter, salt and paprika to the sweet potato flesh. Process until the potatoes are smooth.
Butter a 3-quart casserole dish. Transfer the potatoes to the casserole dish. In a medium skillet, melt the remaining butter and brown sugar over low heat, stirring constantly. Remove from the heat and immediately stir in the pecans. Pour the pecan mixture over the top of the sweet potatoes.
Bake 25 minutes or until the potatoes are hot and bubbling. If the top is getting too brown, cover the pan with aluminum foil.
Serve warm.