3 Reviews
Most Helpful
Newest
Highest Rating
Super sweet and indulgent, is all I can say! I'm used to "cooking" with bananas (see my grilled pb & banana-wich!) so I didn't mind the browning effect that baking has. I used vegan versions of the ice cream and caramel. Melty and icy and gooey all at the same time- thanks for posting!

Very delicious! I used Haagen Dazs light coffee and light vanilla ice creams. I did not add the optional caramel sauce. I used real whipped cream (that I whipped up myself -- sorry! :(). Thanks, Maito! Made for PRMR.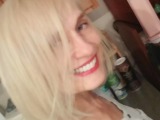 Oh dear, this is one that sounded like such a great idea, but the banana turned a dismal grey color and was quite unappealing. The banana I used wasn't overly ripe, so I'm not sure what went wrong. Made for RSC, please see my rating system as I rate tougher than most.

Baked Peanut Butter Banana Split (Light)