2Bleu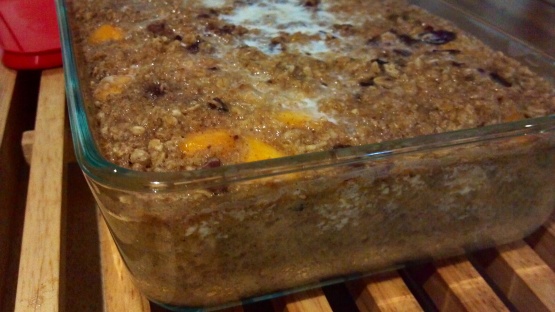 This is my favorite breakfast during peach season! It's sweet and comforting, and so easy because it can be made the night before and just popped in the oven in the morning. This recipe is from the Churchtown Inn in Churchtown, PA, although I modified it slightly. If you use soy milk and a dairy-free margarine, it's dairy-free!

this was fabulous! excellent flavor, so quick and easy. I overheard my DD telling her friend how much she loved it!! wooo-hoooo we impressed the teenager!
Whisk together soy milk, vanilla, and eggs until well combined.
Add quick oats, brown sugar, baking powder, cinnamon, and salt; mix well.
Stir in margarine and peaches.
Pour into 8x8-inch baking dish; set at least 3 hours or overnight in refrigerator.
Place cold dish in cold oven; set oven to 350 degrees and bake for 25 to 30 minutes, or until oatmeal is puffed and golden brown and a toothpick comes out clean.
Let cool 10 minutes before serving.
Serve in individual bowls with enough vanilla soy milk to moisten but not to make it mushy!