Baked Pasta With Spinach, Ricotta, and Prosciutto
Redsie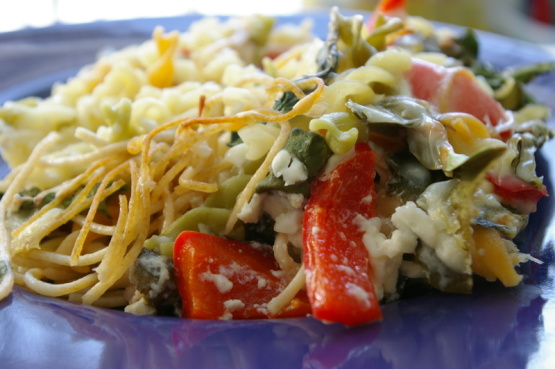 From Everyday Food. This is such an easy and tasty dish!! Did add some red bell peppers and tried it with cottage cheese instead of ricotta. Mmmm good!!
Top Review by PaulaG
What's not to like? I had prosciutto and ricotta that I needed to use. Found this recipe and am glad I did. The recipe was reduced to 4 servings. I love having the ability to adjust serving sizes. I used gluten free brown rice spirals for the pasta. The prosciutto was crisped before adding to the casserole. A touch of nutmeg was added. This was served with a side salad for a wonderful meal. Thanks for posting.
Preheat oven to 400°.
Cook pasta a few minutes less than package instructions suggest.
Cut prosciutto into thin strips.
In a 9-by-13-inch baking dish, toss pasta with spinach, half of prosciutto, milk, ricotta, and garlic.
Season with salt and pepper.
Top with remaining prosciutto and Parmesan.
Bake until golden, 30 to 40 minutes.