Baked Pasta With Chicken Sausage
zobot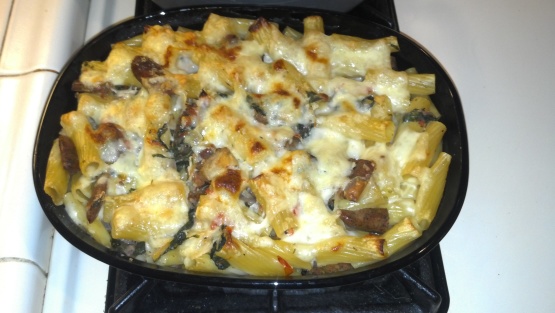 This recipe makes two pans of pasta. Serve one tonight, and keep the other in the freezer for up to three months. To freeze, prepare the dish through step 4 ; let cool completely before covering tightly with plastic wrap and placing in the freezer

I couldn't find smoked chicken sausage or fontina cheese, so I used fancy chicken sausages that I cooked, then cut up. I also used swiss/mozz/parm cheese. Turned out great! The sauce was more work than I prefer, but was good! I might try with store bought sauce and spruce it up with 1/2 and 1/2 or something. My spinach clumped together when I cooked it with the pasta, I might cook it separately next time. Great recipe, and just enough different than regular pasta! Editing to add that we ate this from frozen tonight and it was great! I baked at 350 from frozen about 1 hour, then uncovered about 10 mins.
Bring a large pot of salted water to a boil. Heat oil in a large skillet over medium heat. Add onion; cook until translucent, about 3 minutes. Stir in garlic. Remove from heat; add vodka, if desired. Return to heat; cook until almost evaporated, 1 minute.
Stir in tomatoes and oregano; cook until tomatoes are falling apart, 10 to 15 minutes. Add cream; cook until warmed through, about 5 minutes. Season sauce with salt and pepper.
Meanwhile, preheat oven to 400°. Cook pasta in the boiling water until al dente, according to package instructions. Add spinach, and cook just until wilted. Drain, and return contents to pot.
Add tomato sauce, sausage, and cubed fontina to pot; toss to coat. Season with salt and pepper. Divide evenly between two shallow 1 1/2-quart baking dishes.
Top with grated fontina and Parmesan. Bake until browned and edges are crisp, 20 to 30 minutes.
Note: If you freeze this dish, do not thaw before baking. Remove plastic wrap, and cover with foil. Cook until heated through, 1 1/2 to 1 3/4 hours. Remove foil, and continue with step 5.