Baked Parmesan Fish With Pasta
CarrieB.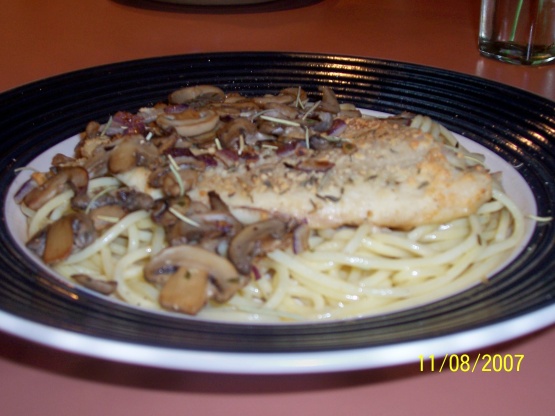 I made this for dinner tonight and it was really good! I used tilapia for the fish. There is really no "sauce" for the pasta so I tossed the noodles with melted butter for some extra flavor, then topped them with the fish and mushroom mixture.

This was very good. I used Tilapia and found the recipe to be easy and straight forward; however, I did cook the mushrooms in 2 Tb. butter, then added 1 Tb. Olive Oil before cooking the onions. You can also add more butter/oil to this mixture to make a sauce for the dish. I will be making this again. Thanks for the post.
Combine cheese, flour and thyme in a shallow bowl. Gently coat each piece of fish on all sides in the mixture.
Place fillets in a baking pan with rack. Bake in a 350 degree oven for 20 minutes, or until fish flakes easily when tested with a fork.
Cook pasta as directed on package; drain. Keep warm.
Heat large nonstick skillet over medium-high heat. Add onion, mushrooms, green onions and garlic. Cook, stirring frequently, until onions are tender. Season with salt and pepper to taste.
Place cooked pasta on oven-warmed plates. Place fish over pasta. Top with mushroom mixture. Garnish with thyme if desired.