Baked Parmesan Dijon Chicken Breasts
VickyJ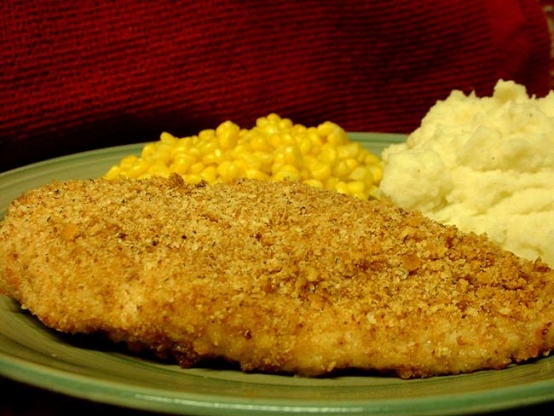 Very quick to make, especially if you pound the breasts to about 1/4 inch thickness. If you do this, it should only take 15-20 minutes to bake.

The chicken was very moist but no one in my family thought it was especially flavorful. I am going to try again with maybe adding some garlic salt and the worcestershire that Krista Roes suggested. It definately was moist and juicy though!
Heat oven to 375°F Grease 13 X 9 inch pan.
Mix bread crumbs and cheese in alrge resealable plastic food storage bag.
Mix butter and mustard in shallow dish.
Dip chicken into butter mixture, then shake in bag to coat with crumb mixture. Place in pan.
Bake uncovered 20 to 25 minutes, turning once, until juice of chicken is no longer pink when centers of thickest pieces are cut.