K9 Owned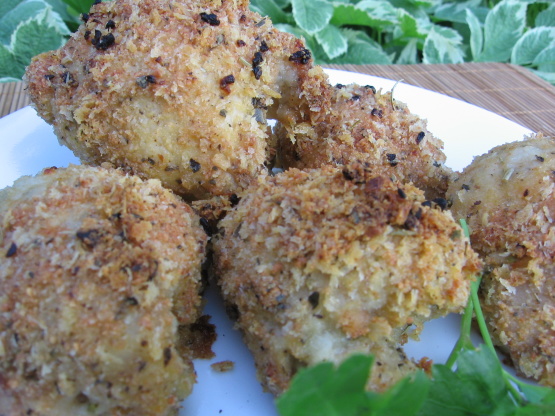 This is modified from a recipe on the menus4moms website. It's simple to prepare, and the crunchy topping gives it great texture. I serve it on a bed of spinach fettucini for a pretty presentation. I used bone-in, skin-on thighs, but you could really use whatever pieces you have on hand, or that your family prefers. If using boneless pieces, you will need to cook for less time.

My family loved this. I made enough to bring to work the next day and everyone wanted a taste. We will definitely have this again!!

Thanks
Preheat oven to 350.
In a small saucepan over medium low heat, melt 2 tablespoons of the butter. Add the garlic, and stir to coat. Continue cooking until garlic is fragrant.
Add the remaining butter, and leave over the heat until melted.
In a pie plate or shallow dish, combine crumbs, cheese, oregano, salt and pepper.
Dip each piece of chicken in the melted butter, coating all sides, then dredge in the crumb mixture. Place in a baking dish.
Drizzle remaining butter over the chicken pieces.
Bake uncovered at 350 degrees for 45 minutes or until done.