Debbwl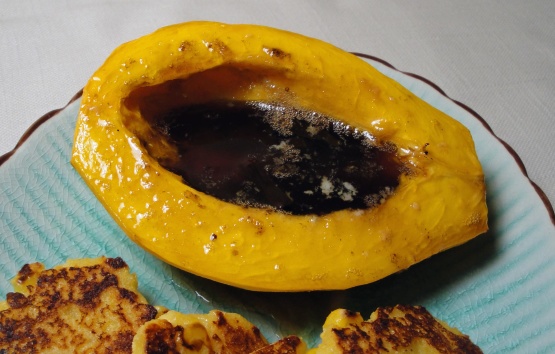 Adapted from The New York Times cookbook. Posted for ZWT.

A delightful way to eat that reasonable fruit (at least in our area) that I certainly hadn't thought about. Roasting "pumps up" the rather bland flavor of this fruit. Bumped it up a bit by adding sliced strawberries, a little rum, and lemon slices (and the vanilla bean of course.) My wife said this would be a wonderful dessert served with vanilla ice cream. I served it with pork chops, rice, and a green salad. What a great meal. It is to make again for sure. Jim in So Calif
Preheat the oven to 350 deg F.
Peel the papayas, split them in half lengthwise and remove the seeds.
Arrange the prepared papayas, cut side up, in a large baking dish filled with approximately 1/2 inch of water.
Place one piece of vanilla bean, 1 tsp butter and 2 teaspoons brown sugar in the center of each papaya half.
Bake for 45 minutes, or until tender.