Debbwl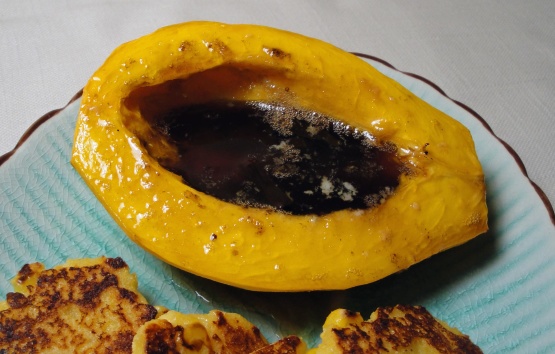 Adapted from The New York Times cookbook. Posted for ZWT.
Top Review by Lou
I am not familiar with preparing papaya's. I did this one, and added a dash of rum, and served it with vanilla ice cream and whipped cream. Mine was from brazil so I can't wait til I can find some that are from Hawaii! These were satisfactory considering my inexperience with papaya's. I don't think i'll put as much water in the pan next time tho. thanks for the recipe. can't wait to try it again.
Preheat the oven to 350 deg F.
Peel the papayas, split them in half lengthwise and remove the seeds.
Arrange the prepared papayas, cut side up, in a large baking dish filled with approximately 1/2 inch of water.
Place one piece of vanilla bean, 1 tsp butter and 2 teaspoons brown sugar in the center of each papaya half.
Bake for 45 minutes, or until tender.