Marlene.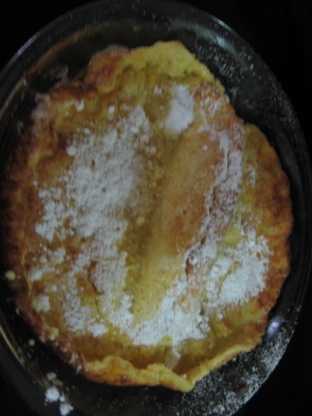 I first tried this when I was in high school spending the night at a friend's house. I remember watching, through the oven door window, at the way it puffed up. Sometimes it puffs up HUGE ... sometimes it puffs up lopsided... sometimes it doesn't puff up much at all....why? Who knows! *LOL* This will taste VERY BLAND if you don't add the powdered sugar! I mean, look at the ingredients!! :)
As you said, typically a little bland, but I like to use a mix of lemon juice and powdered sugar to spruce it up. To determine how fluffy it is, is how much you mix/whip it. If you mix it very gently, you get a very flat pancake. If you whip it with a whisk, it'll inflate like a balloon. This is because the air that you're adding to the mix will expand when it's heated.
Melt the butter in an 8" or 9" pie pan.
While that's melting, mix together the flour, milk and 2 beaten eggs.
Batter will be lumpy.
Pour over the melted margarine.
DO NOT MIX.
Bake until sides rise and middle is cooked.
425* oven.
15-20 minutes.
Take out of the oven and immediately sprinkle or sift powdered sugar over the whole pancake.
(I use A LOT!) Cut into pieces and serve!