Baked Oysters With Bread Crumbs and Garlic (Ostriche All' Italia
IngridH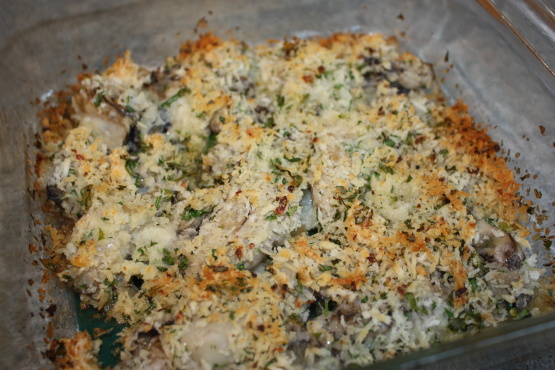 This is a classic Italian dish. Posted for ZWT 7-Italy. I found this on alleasyrecipes.com.

I really enjoyed these. This is the kind of dish that just cries out for a lightly dressed green salad and a glass of white wine. The oysters I used had been frozen, but had been gathered from a local beach, shucked, and frozen within about an hour or so; and then gently thawed, so there was no loss in quality. Since these were not commercially harvested, I had a mix of sizes- some were very tiny, others were huge. I cooked the whole batch for 12 minutes, and the tiny oysters were very done, the large ones just curling around the edges- so if you use large oysters, plan on a longer cooking time. I would add a bit more seasoning the next time; not salt, since oysters are naturally a bit salty, but some black pepper and possibly some herbs- basil, tarragon, dill... Overall, I really liked this dish, and would be very happy to have it again. Made for ZWT7- Emerald City Shakers
2

tablespoons butter

1

cup fresh white breadcrumbs (made from about 3 slices French or Italian bread)

1

teaspoon finely chopped garlic

2

tablespoons finely chopped fresh parsley, flat-leaf preferred

2

dozen fresh oysters, shucked

3

tablespoons freshly grated imported parmesan cheese

2

tablespoons butter, cut in tiny pieces
Preheat the oven to 450*. Choose an ovenproof platter or a shallow baking dish that is just large enough to hold the oysters in one layer (about 8 x 10"). Butter the dish generously.
In a heavy 6-8" skillet, melt 2 Tblsp. of butter over moderate heat. When the foam subsides, add the fresh, white bread crumbs and the garlic, and toss them in the butter for 2-3 minutes, or until they are crisp and golden. Stir in the fresh parsley.
Spread about 2/3 cup of the bread-crumb mixture in the bottom of the buttered baking dish, and arrange the oysters over it in one layer.
Mix the rest of the bread-crumb mixture with the grated cheese and spread the combination on the oysters. Dot the top with the tiny bits of butter.
Bake the oysters in the top third of the oven for 12-15 minutes, or until the crumbs are golden and the juices in the dish are bubbling. Serve at once, either as a main course or as part of the antipasto.