Baked Orange Pecan French Toast
twissis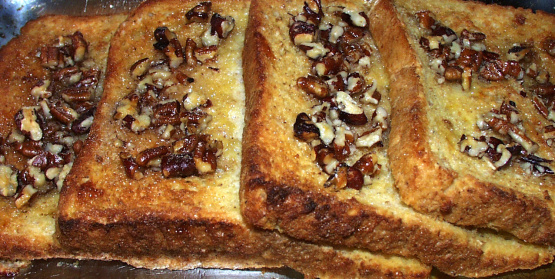 This is a wonderful treat with easy advance preparation. An elegant breakfast to serve over- night guests. Prep time includes 2 hours chill time. This is a Texas recipe - oranges from the valley, not to mention all the Texas pecan trees. Southwestern U.S.

I made this for my visiting parents for a nice brunch. I used two types of bread, one a whole-grain white and the other a pre-sliced French sandwich bread. I preferred the French bread as it browned more and crisped up a bit more than the white bread. The orange syrup was divine. Don't expect a thick syrup, though, it is pretty thin in consistency but the flavor is great. I will make this again using all French bread and will add a bit more nutmeg to give it a boost. Thanks for a very nice recipe!
Toast: Beat together eggs, juice, milk, sugar, vanilla and nutmeg.
Arrange bread in a single layer, top with egg mixture.
Refrigerate 2 hours.
Melt butter in 10 X 15 X 2 pan, and arrange bread on top.
Bake at 350 for 20 minutes.
Sprinkle with pecans, and bake 10 minutes more.
Orange syrup: Combine syrup ingredients and cook over low heat.
Do not boil.
Cool for 10 minutes, and serve warm over hot toast.