Baked Omelet With Broccoli & Tomato
Bergy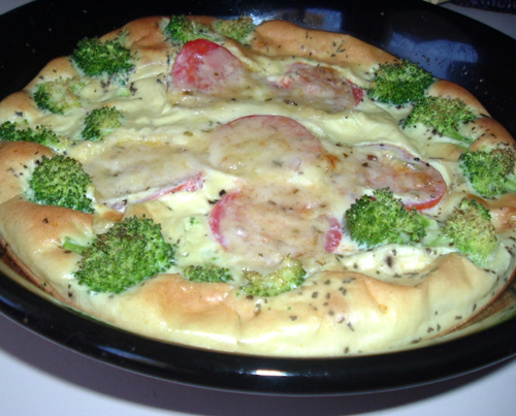 Simple easy omelet to make - It puffs a bit but is not a "Fluffy" omelet. If you wish to liven this omelet up use fresh herbs and add some chili flakes. Use fat reduced cheese if you wish. I like my veggies crisp so I do not pre steam the broccoli but if you like it well done then pre steam . If you wish cut up the cheese in small pieces rather than shred and place them on the tomto slices. This recipe is from the Internet
Beat your eggs with the dried onion, Milk, cottage cheese, Garlic powder, basil, Salt & Pepper.
Cut your broccoli into very tiny florets.
Slice your tomatoe into 1/4" slices.
Lightly grease a pie plate or cover it with Release foil.
Pour in the egg mixture.
Arrange the broccoli florets and tomato slices on the egg mixture' Sprinkle with the cheese or place the small cut pieces on top of the tomato slices.
Bake in pre heated 350F for apprx 20-25 minutes until the cheese has melted and the eggs are firm.
Enjoy.