3 Reviews
This is a popular recipe on the pinterest website and with good reason. It tastes like a big, soft delicious oatmeal cookie. I was particularly excited about how this turned out because I took a chance and doubled the recipe hoping that it would fit in a 9 inch x 13 inch glass baking dish. It fit perfectly and cooked up just fine in the same amount of time that the recipe specified.

I originally found this on Urban Nester's blog and wanted to put it here for safe keeping! It is delicious!!! I used 1/3 cup brown sugar and fresh fruit. Thanks for posting this new family favorite!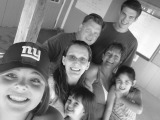 This recipe is the bomb. I usually double the fruit. I use frozen blackberries, blueberries and raspberries, whatever I have on hand. I also throw in a little applesauce. Moist and delicious.
Baked Oatmeal Casserole