auntyjan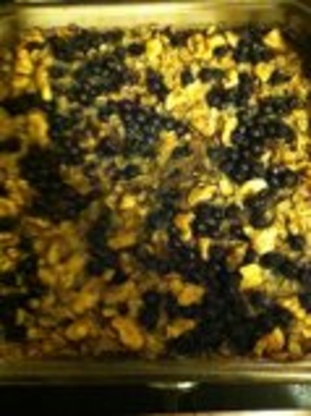 Found in a readers digest! Havent tried it but Im looking forward to it!

I made this from Reader's Digest too - very good! Since I'm following the South Beach Diet, I substituted "sugar free pancake syrup" for maple syrup. I also used walnuts instead of almonds & unsweetened vanilla almond milk instead of regular milk. It almost has a bread pudding consistency. Will definitely be making this one again!
Preheat oven to 375F with rack in top third of oven. Butter an 8x8 inch baking pan.
In a bowl mix together oats, half the walnuts, sugar, if using, baking powder, cinnamon. In another bowl, whick together maple syrup, if using, milk, egg, half the butter and vanilla.
Arrange bananas in a single layer in bottom of prepared dish. Sprinkle two thirds of berries over top. Cover fruit with oat mixture. Slowly drizzle milk mixture over oats. Gently give baking dish a few thumps on the counter to make sure milk moves through oats. Scatter remaining berries and walnuts on top.
Bake 30-45 minutes until top os golden and oats have set. Remove from oven and drizzle remaining butter on top. Serve with extra sugar or syrup!