loof751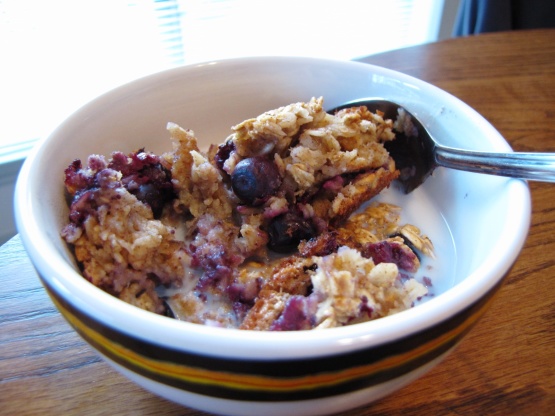 This is a delicious twist on an old breakfast stand by! My whole family loves it and it is relatively simple to make. Don't be afraid to make your own additions. Sometimes I like to add apples, nuts, or raisins.

This is a very tasty baked oatmeal! Loved the blueberries; as your intro suggested I think it would be great with some almonds or pecans added. I made 1/3 of the recipe in a 4x6 inch pan and that worked well. Served with just a little milk and really enjoyed - thanks for sharing the recipe! Made for Spring Pick-A-Chef 2011
Preheat oven to 350.
In a large bowl mix oats, brown sugar, cinnamon, baking powder and salt.
Mix in milk, eggs, melted butter, and vanilla extract.
After all other ingredients are mixed together add blueberries.
Spray a 10x13 pan with cooking spray.
Pour into a 10x13 cake pan that has been sprayed with cooking spray.
Smooth into a uniform layer and bake for about 35 minutes at 350.