loof751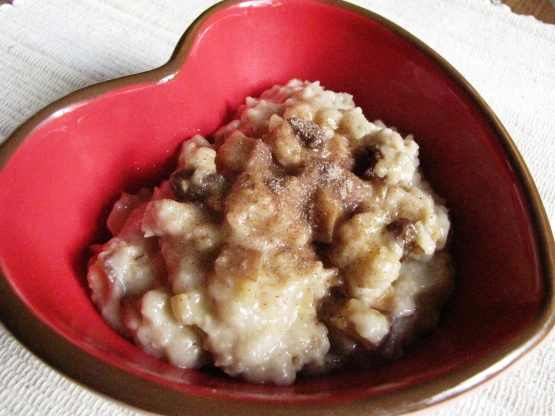 This is a recipe that I got back when I was doing the Weight Watchers program. The recipes makes 6 servings @ 3 points each.

Really good. This is a great, creamy recipe that comes out of the oven with just the perfect texture. We tried it first the way it is, but the cinnamon was a little overpowering for the kids. The next time we made it, we used 4 T of brown sugar, and then one more tsp. after cooking, and it was perfect. A yummy, warm treat for breakfast before sending the kids off to school.
Pre-heat oven to 350 degrees.
Combine water, milk, oats and salt in casserole.
Let stand for 5 minutes.
Stir in remaining ingredients.
Bake covered for 45 minutes.
Uncover for last 5 minutes of baking.
Allow to stand for 5 minutes before serving.