loof751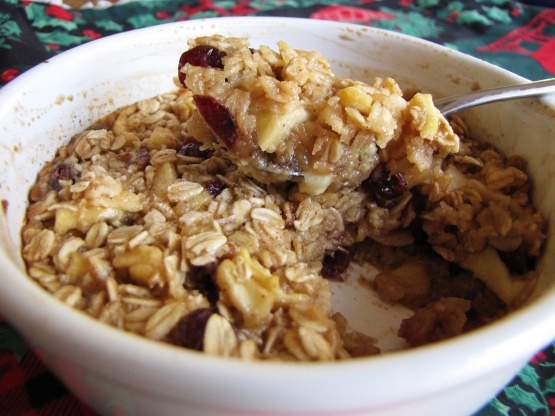 I love apples, and oatmeal. You may use quick or old fashioned oatmeal for this — just whatever you have. Try this with some frozen blueberries or any other dried fruit. I used Craisins and frozen raspberries often. This is another recipe from the wall of our old house. Which means, I have no idea where it came from after 7 years. I'm posting these because they are my favorites if they made it to the wall. As one reviewer said, it holds well in the fridge, because I usually make mine on a Sunday night, then the kids have something hearty and warm in the morning before the mad dash to school!

Absolutely wonderful. I change the recipe depending on what I have and what I want. Sometimes I use pecans, sometimes I make it sugar free with splenda for my mom, sometimes I use bananas...you just can't miss with it! Fantastic as a leftover too!
Preheat oven to 350°F.
Mix everything together in a greased 1 quart casserole.
Bake, uncovered, for 30 minutes or until milk is absorbed.
Serve with milk or cream. Add more sugar or other toppings to your heart's desire.