Baked Not Fried Egg Rolls
B.A.B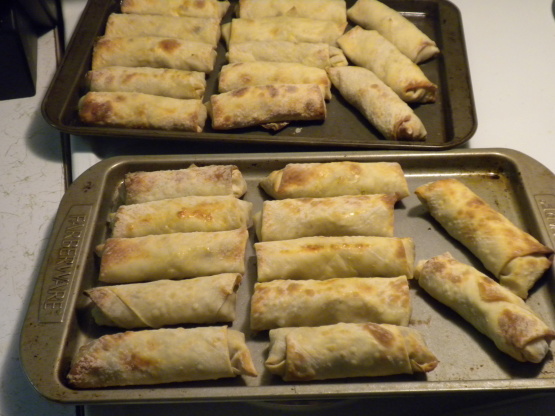 I wanted to make egg rolls for my hubby and me but I don't own a deep fryer and to be healthier I wanted to bake my egg rolls rather than fry them. I adapted the recipe "Awesome Egg Rolls", Awesome Egg Rolls to be baked rather than fried. This recipe is very simple, and in my opinion fail proof. These egg rolls are delicious, and crispy like restaurant egg rolls, but with out all of the grease. I hope you enjoy this healthier alternative to the traditional fried egg rolls.
Some small corrections to you're recipe. First it's ground pork not beef. It is much leaner and healthier use 1/2 lb per 10 oz pack of angel hair shredded cabbage. The salt in pepper thing is supposed to be five spice seasoning which is what gives it the egg roll flavor. Try spraying them with canola oil or whatever spray you have it lets them surface fry giving the wrap those crunchy little bubbles you expect to see in an egg roll. With 8 oz of ground pork and 10 oz of cabbage you get roughly a dozen rolls save the other 1/2 pack of wraps for the next time. If you get a pound of pork just freeze half and all you need is the cabbage and carrot and whatever else you like as filling.
Preheat oven to 425 degrees.
Brown ground beef with salt, pepper and garlic powder. Use a lot of salt, pepper and garlic powder because the flavors will decrease when the meat is mixed with the cabbage and carrots.
After browning meat and getting the seasoning to the right taste (try the meat to see if it has enough flavor) place the cabbage and carrots in a very large mixing bowl.
Add the ground beef on top of the veggies.
Mix well and allow to sit for about 15 minutes. This step allows the cabbage to soften for easier rolling and lets the flavors mix.
Taste the cabbage and see if the flavoring is still strong enough. Add more salt, pepper and garlic powder until you get a taste you enjoy.
Crack the egg into a small bowl to make an egg wash to use when sealing the egg rolls.
Place 1-2 Tbs (more or less for easy rolling of egg rolls) of cabbage/meat mixture onto each egg roll wrap.
Fold egg roll wrap according to directions on package being sure to wrap them tightly.
Brush egg wash onto wrap while folding to seal the egg rolls.
Place egg rolls onto cookie baking sheet.
Spray egg rolls with PAM. Use enough PAM to give egg rolls a nice shine.
Flip egg rolls over and spray all sides well.
Place egg rolls in oven and bake for 15 minutes Egg rolls should be blond in color and crispy. Do not let egg rolls get too dark.