Baked Mushrooms With Spicy Rice and Corn
mosma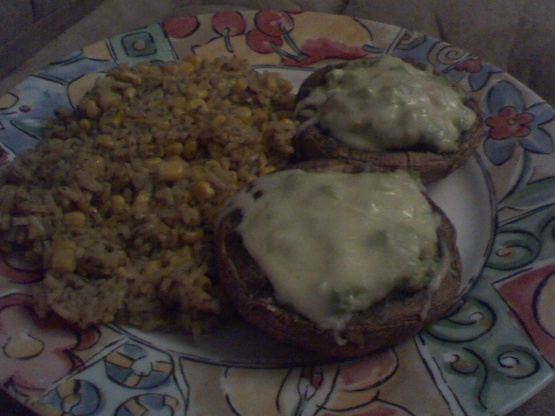 From Australian Super Food Ideas May 2007. Make a great light meal. Suggested if serving to children omit chilli powder and adults could add tabasco or hot chilli sauce. Times are estimated.
This was nice recipe, slightly different, enjoyed the mushrooms and rice combination, add in avocado and cheese and it is a perfect combination.
Preheat oven to 180 degree celsius.
Heat oil in a large saucepan over medium heat, add chilli powder (if using) and then add rice, cook stirring, for 1 minute and then add stock. Cover and bring to the boil, reduce heat to low and cook for a further 10 minutes or until all stock is nearly all absorbed.
Remove pan from heat, add corn and cover and stand for 5 minutes.
Meanwhile, wipe mushrooms with paper towels and trim the stems.
Place on an oven tray, bake for 10 minutes or until tender.
Spoon avocado onto stem side of mushrooms, sprinkle with spring onions and cheese.
Bake for 5 minutes or until cheese just melts.
Stir rice with a fork to separate the grains. Add coriander and season with salt and pepper and stir to combine.
Spoon rice onto plates and top with mushrooms or serve mushrooms to side of rice.