Baked Mushroom Chicken I I
SLCWoods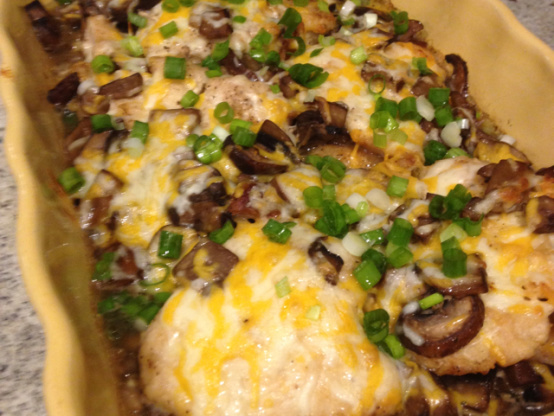 My friend Windy gave me this recipe the other day. It was easy to make and was a nice change to those recipes that call for a can of 'cream of this or that soup'. Friday's Pal has this recipe posted but she has a couple of extra ingredients in her's. I made extra when I fixed this so we are having it again tonight.

This was a really, really, good dish. I added onion powder, paprika and pepper to the flour. I didn't pound the chicken thin, just baked it longer. I used fat free mozarella cheese, and it melted just fine. I'll definitely make this again.
Flatten chicken if needed, as you want it to fry quickly.
Put flour in a zip lock bag and coat the chicken lightly.
Melt butter in a skillet and brown chicken about 2 minutes per side and place in a greased baking pan.
I used my Pamper Chef's stone cake pan and did not have to grease it since my stone is nicely seasoned.
Sauté mushrooms in the same skillet until tender.
Add broth, salt and pepper to mushrooms and bring to a boil for 5 minutes. You want to reduce the liquid by about half of the original volume.
Spoon over chicken and bake uncover in a 375-degree oven for 15 minutes.
Sprinkle with cheeses and top with the green onions returning to the oven to bake for 5 more minutes.