Prep 15 mins
Cook 20 mins
This recipe comes from Taste of Home. It's easy to put together and the chicken turns out moist and tender. I added the wine, because, well, I just like wine with chicken!!
Directions
Flatten each chicken breast half to 1/4" thickness.
Place flour in resealable plastic bag; add chicken, a few pieces at a time.
Seal and shake to coat.
In a large skillet, brown chicken on each side in 2 T butter.
Transfer to a greased 11" x 7" x 2" baking dish.
In the same skillet, saute mushrooms in remaining butter; add salt and pepper.
Bring to boil; add wine and corn starch.
Cook for 3 minutes or until thickened.
Pour over chicken.
Bake, uncovered, at 375 for 15 minutes.
Sprinkle with cheeses and green onions.
Bake 5 minutes longer.
Most Helpful
This received mixed reviews at our house. I thought is was tasty, my husband thought it was just OK and my kids didn't like it. Thanks for posting!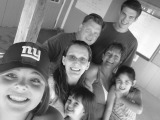 I made this last night and all I can say is WOW! I didn't have wine but added 1/4 cup more bullion and some minced garlic. The only reason I would double the sauce and the mushrooms is so that I hade more to eat! I also, by mistake added the onions to the mushrooms instead of sprinkling on top but this didn't change a thing in taste. Thank you for a wonderful recipe. I will make this again and again and again......
Rave reviews for this one. Tender, succulent chicken, a lovely sauce - company worthy indeed.