Baked Mushroom Bacon Rice
Food.com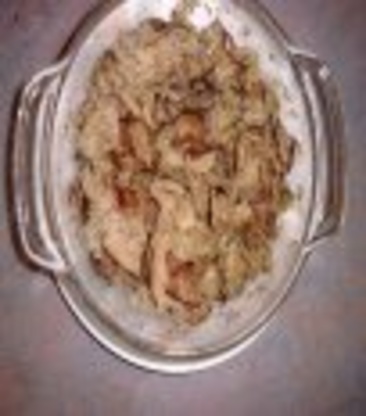 Thanks go to NurseDi for inspiring me to create this side dish, based on her Mushroom Oven Rice. The butter gives the rice a lovely rich quality, so I'd advise against substituting margarine. I think it would be an ideal side for any meat. It is also an easy offering for your next potluck.
Pre-heat the oven to 425 F or 220 C.
If you are using a fan assisted oven, you can cut the heat by about 10 percent.
In a large skillet, melt the butter and sauté the rice and bacon for two minutes.
Add the celery, onion and mushrooms.
Cook and stir for a further 2-4 minutes, until the vegetables just start to soften.
Pour into a large casserole dish.
Stir in the broth and garlic.
Add a generous amount of black pepper and a couple pinches of oregano.
Mix well.
Cover and bake for 30 minutes, or until the liquid is absorbed and the rice is cooked.