Baked Mozzarella-Jalapeño Dip
teresas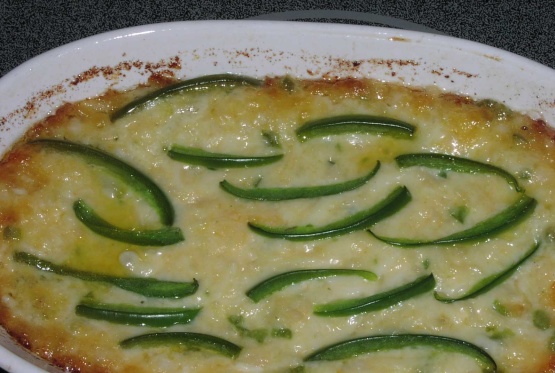 If you like extreme heat then throw in another jalapeño and some Tabasco, this could also be made omitting the jalapeño if desired, my family likes it really hot so I use 3 large jalapeño with the Tabasco :)

The whole family loved this dip. The only complaint, was that it was a little too salty. So I think next time I will cut out or cut back the garlic salt and increase the minced garlic instead. I used low fat Hellmans for the mayo. I also left out the optional hot sauce. But if you enjoy a little bit of heat, I suggest you use it to give this delicious dip a kick!
Set oven to 350°F.
Grease an 8 x 8-inch baking dish.
In a bowl mix together shredded mozzarella cheese mayonnaise, fresh garlic, olives, onion, 1 jalapeño pepper and Tabasco (if using).
Spread the mixture into prepared baking dish.
Sprinkle the top evenly with garlic salt, then remaining jalapeño pepper.
Bake for about 20-22 minutes or until the edges are golden brown.
Serve hot or warm with tortilla chips.
Delicious!