Baked Mozzarella Cheese Sticks
megs_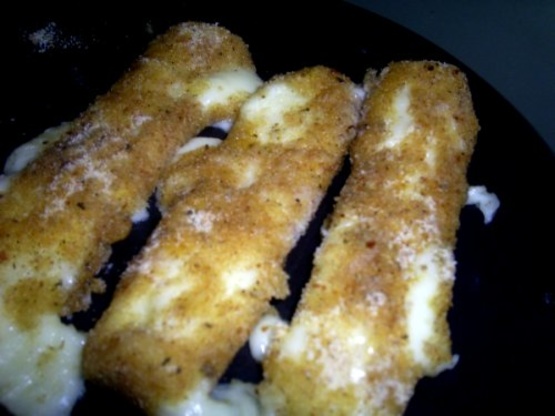 Delicious. I used low-fat cheese sticks to try and be a little more healthy. These were great! I used 3 egss instead of 2. With some spaghetti sauce they were perfect! I would definately recommend trying them out!
In a small bowl, beat eggs& water.
In a plastic bag, combine bread crumbs, italian seasoning, garlic powder, and pepper.
Coat cheese sticks in flour, then dip in egg mixture and bread crumb mixture.
Repeat egg and bread crumb coatings.
Cover and chill for at least 4 hours or overnight.
Place on an ungreased baking sheet& drizzle with butter.
Bake, uncovered, at 400 degrees for 6-8 minutes or until heated through.
Allow to stand for 3-5 minutes before serving.
Use marinara or spaghetti sauce for dipping.
Enjoy!