Baked Monte Cristo Sandwich
Bobtail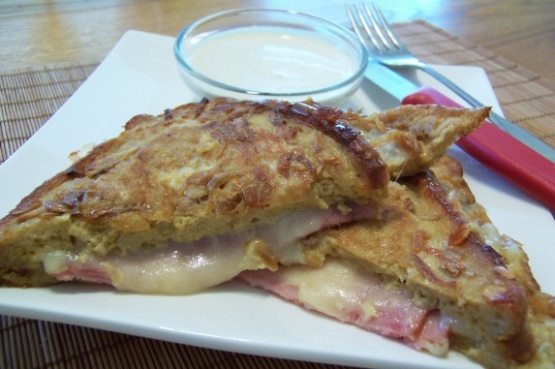 Good sammich, cold beer, warm fire!! Who needs a date??

This sammy is very good! I did have it for breakfast without the beer! LOL! I reduced the recipe down to one serving and added a slice of ham along with the turkey. It was simple to prepare and turned out just right. I cooked this is a very small casserole dish so the egg mixture cooked close to the sammy. This made it more of a knife and fork dish. Future plans include the beer! LOL!
Place 1 slice each of cheese and turkey on each of 4 bread slices.
In pie plate beat eggs, milk, and dry soup mix until well blended.
Dip each sandwich into egg mixture, spooning onion pieces onto bread.
Make sure all egg mixture is used.
Place butter in 10x15" inch jelly roll pan.
Set in preheated 450 degree oven a couple of minutes to melt butter.
Carefully place sandwiches in pan and drizzle any remaining egg mixture over them.
Bake 5 minutes.
Carefully turn sandwiches and continue baking until golden brown.
Serve with dijon mustard dipping sauce.
Sauce: Mix well and then chill until ready to serve.